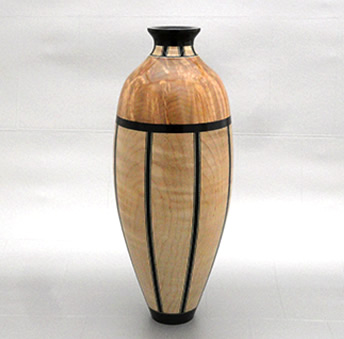 Wood Vase by Claude Dupuis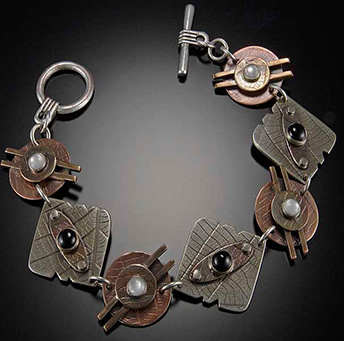 Metal Necklace by Diana Beaulieu
Glass Perfume Bottle by Robert Burch
CRAFTSPEOPLE IN THE NASHUA FINE CRAFT GALLERY
BASKETS
Becky Howe
Cheryl Christenson
Janice Christie
Lynn Goldberg
Ruth Boland
CARDS
Adrienne Ginter
Andrew Thompson
Bill Mitchell
Cheryl Miller
Dick & Karen Hudnall
Elena Wikstrom
Fred Parsons
Judith Lombardi
Karin Bolton
Karin Bolton
Victoria Elbroch
CLAY
Boyan Moskov
Carol Keiser
Corinne Null
Devitt Liptak
Elaine Fuller
Evan Williams and Grace Pejouhy
Glen MacInnis
Irina Okula
Jette Nielsen
Ken Pick
Lars Turin
Liz Fletcher
Lloyd Hamovit
Lydia Grey
Mike Gibbons
Paul Haigh
Paula Barry
Peter Sabin
Robert Wetterer
Sharon Lee
Sibel Alpaslan
Sibylle and Ron Tornow
Steve and Sue Russell
Steve Cunliffe
Steven Hayden
Tom White
Veronica Delay
Walter Slowinski
HATS, SCARVES, AND MITTENS
Betty Lathrop
Carol Schnabel
Christine Alexander
Claire Renaud
Donna T Wilson
Elizabeth Nordgren
Jane Frenke
Jane Labelle
Joyce Murphy-Gale
Julie Robinson
Melinda Labarge
Nancy Adams
Nancy O'Connor
Pat Mika
Renee Blanchette
Susan Bradford
Tarja Cockell
POCKETBOOKS AND TOTES
Claire Renaud
Elizabeth Nordgren
Janet Durkee
Marie Wiggin
Nancy Adams
Susan Scalera
FIBER – OTHER
Carolyn Wright
Diana Lind
Elaine Langevin
Jane Frenke
Kate Kilgus
FLOOR MATS
Paula Hughes
FOLK ART
Jim Lambert
BLOWN AND LAMPWORK GLASS
Aaron Slater
Alex Kalish
Bruce Cobb
Chris Sherwin
Jeff and Erica Lamy
Jordana Korsen
Lada Bohac
Peter Vanderlaan
Michael Kratz
Nathan Macomber
Robert Burch
SLUMPLED GLASS
Chris Salmon
Deborah Libby
Hope Murphy
Karen Gola
Karen Reed
Gigi Laberge
MaryBeth Bliss
STAINED GLASS
Julia Brandis
Mark and Kathleen Frank
JEWELRY
Andrea and Jim Lorette
Ann Dillon
Anne Hanson
Anne Sherman
Barbara Sperling
Betsey Keeney
Blair LaBella
Cheryl Kumiski
Claire Renaud
Deb Fairchild
Deb Noiseux
Deborah Libby
Deirdre Donchian
Diana Beaulieu
Eleanora Eden
Erica Walker
Gigi Laberge
Jack Dokus
John and Susan Pearsall
Joseph DeRobertis
Joy Raskin
Julie Schmidt
Julie Schroeppel
Karen Mitchell
Lauren Pollaro
Linda Sorenson
Lochlin Smith
Luanne Udell
Lucy Golden
Lynn Adams
Madeleine Wright
Marcia Herson
Marcie Rae
Mary Beth Bliss
Michelle Kolb
Nina Zotcavage
Paulette Werger
Rebecca Haas
Ruth Boland
Ruth Mary Pollack
Stephanie Robinson
Susan Mulvey
Sussy Rose Shields
T Breeze Verdant
Trish Dalto
LEATHER
Claire Renaud
Richard Gallione
METAL
Gary LaRose
Joe Farchaus
Joseph DeRobertis
Kathleen Krzewinski
Lance Cloutier
Peter Happny
Walker Boyle
ORNAMENTS
Ruth Boland
Aaron Slater
Carolyn Wright
Cheryl Christenson
Chris Salmon
Elena Wikstrom
George Saridakis
Gigi Laberge
Jeff Erica Lamy
Mariah Champagne
Sussy Rose Shields
STONE
Lee Spiller
Michael Updike
WOOD – TURNED
Art Anderson
Bob Englund
Claude Dupuis
Cynthia Ellis
David Maine
Donna Zils Banfield
Gary Fecteau
Jack Graceffa
Karen Parks
Matt Newton
Nelson Long
Paul Socha
Peter Block
Scott Ruesswick
Stephen Willette
Steven Frye
WOOD – OTHER
Andrea and Jim Lorette
George Saridakis
Ian Johnson
Jeff Lind
Jeffrey Cooper
Jim Cardell
John Ryan
Noriko Isagi
Paul Wilson
Rick Gagne
Steve Falk
William Taylor
WALL ART
Botanicals
Joan Szoke
Calligraphy
Adele Sanborn
Clay
Glen MacInnis
Lydia Grey
Fiber
Carol Babineau
Cheryl Miller
Jane Frenke
Marie Wiggin
Sarah Warren
Photography
Andrew Thompson
Dana Clemons
Dick & Karen Hudnall
Fred Parsons
Judith Lombardi
Karin Bolton
Lawrence Elbroch
Susan Lirakis
Printmaking
Bill Mitchell
Bruce Peck
Carol Lummus
Catherine Green
Dawn Blanchard
Jan Drygulski
Mary Margaret Sweeney
Matt Brown
Matthew Smith
Victoria Elbroch
Wood
Jessie Obrien
---
VISIT US:
98 Main Street
Nashua, NH 03060
603-595-8233
email: nashuarg@nhcrafts.org
GALLERY HOURS:
April through Oct
Tue:        10am – 5pm
Wed:       10am – 5pm
Thu:        10am – 8pm
Fri:          10am – 6pm
Sat:         10am – 5pm
Sun:        Closed
Mon:        Closed
-or by appointment or chance
---
JOIN THE LEAGUE LEAGUE HEADQUARTERS

OUR MISSION: The mission of the League of NH Craftsmen is to encourage, nurture and promote the creation, use and preservation of fine contemporary and traditional craft through the inspiration and education of artists and the broader community.
© League of NH Craftsmen. Website Design by Sullivan Creative.